Traditionally speaking, when investing in jewellery based on names, the oldest and finest heritage jewellery houses such as Cartier, Bulgari, Van Cleef & Arpels and Graff have a high resale value because of the power of their brand name recognition.
The most exclusive and rare jewellery creations are often the most valuable, and are created by the greatest jewellery artists. Once the namesake virtuoso of the brand has passed on - as in the case with jewellers such as Grima - their designs only grow exponentially in value because of their finite nature. However, for master jewellers who remain at the helm of their company such as Joel Arthur Rosen of JAR and Wallace Chan, their rare output also increases demand for their jewellery, and therefore the value of their pieces.
The current title of the most expensive necklace in the world belongs to Wallace Chan's 'A Heritage in Bloom', which was unveiled in September 2015 - meaning that its worth is likely even more in 2019 terms. This necklace garners its extraordinary value from the intricate details of the craftsmanship which Wallace Chan, as well as the expense of the materials used: set with an incredible 11,551 diamonds weighing a total of 383.40 carats, Chan created the necklace for Hong Kong-based jewellery retailer Chow Tai Fook (who also bought the famous Cullinan Heritage diamond in 2010). Taking more than 47,000 hours to complete, the highly engineered design means that it can be worn in 27 different ways.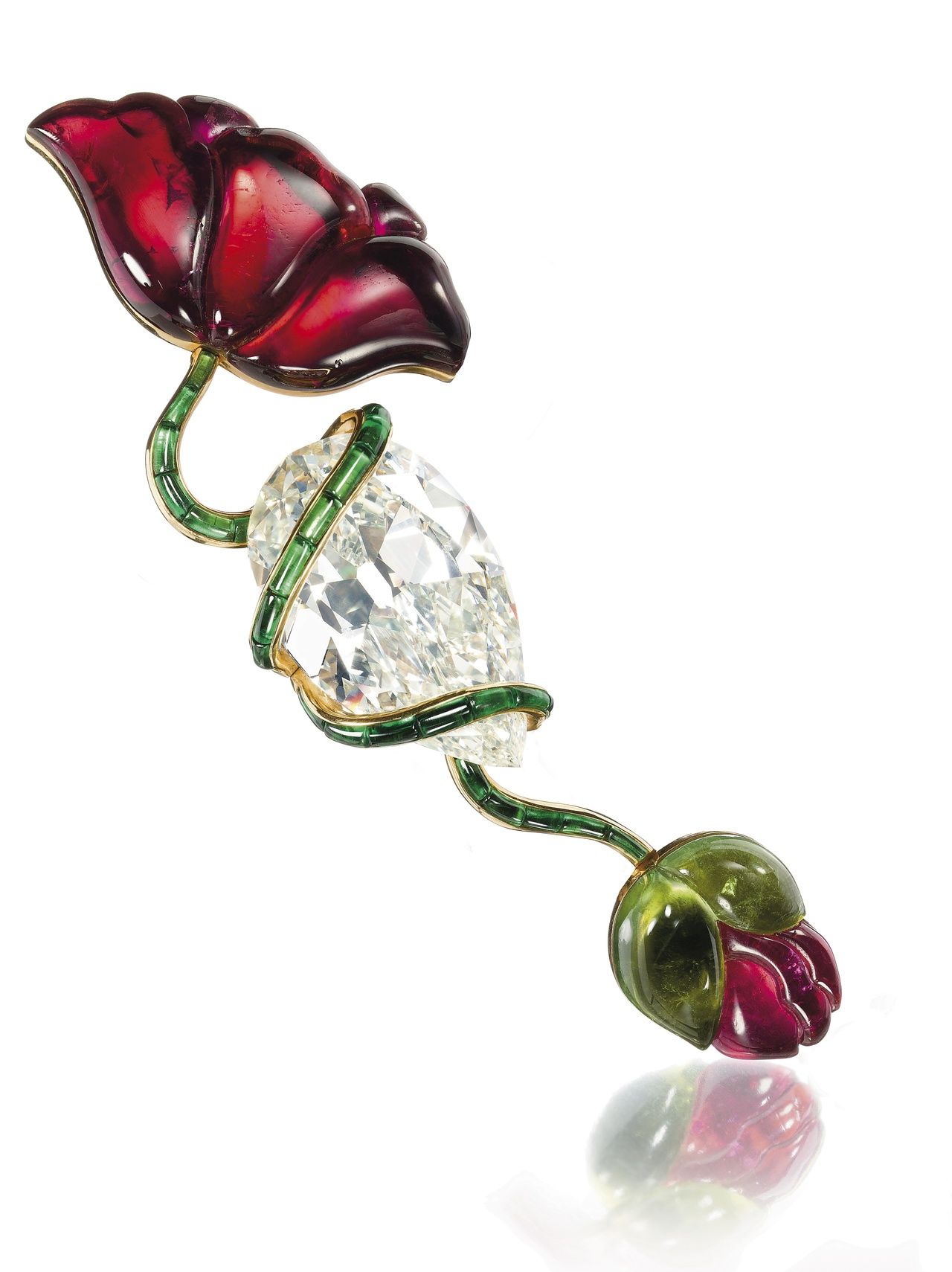 Head of Jewellery at Christie's in New York, Daphne Lingon sheds light on why JAR's creations are some of the most sought after in the world in her recent article for the auction house; explaining why the designer achieves significant returns at auction: "To some extent, words can't describe what Joel Arthur Rosenthal [JAR] achieves in his jewels. His colour combinations and shapes are so unexpected, as is the use of unusual gemstones. While he is inspired by 17th, 18th and 19th-century pieces, his designs are always marked by his unique vision. You're always a bit at the edge of your seat, wondering what he'll come up with next."
It is difficult to calculate exact values for the jewellery of either artist because of the strict privacy in which both Wallace Chan and JAR create, and sell, their jewellery. The one methodology which connects all of these living masters and brands is not only their distinctive aesthetic, but also their methods of production. The key to choosing jewellery brands for investment is buy from highly regarded artisans who make a limited number of jewels by hand, with a small team of craftsmen, using the highest quality of materials.
Hemmerle are family run a brand who understand the value in their own worth, often buying their own older creations when they - rarely - appear for sale. While purposely limiting their creative output and avoiding mass production methods, they also interact with their customers on a personal note by meeting them face to face at exclusive exhibitions like Masterpiece London and TEFAF New York. This traditional way of selling harks back to an era where the jeweller was a trusted friend of a wealthy collector - and the relationship was more akin to that of the artist and the benefactor. In a series of 2018 talks, Christian Hemmerle commented on the characteristics of the 'typical' Hemmerle collector: "It's a group of people who share an interest in looking for something different, who love design, who love the arts, they don't want to have something everyone has, they want to know that these pieces are made to the highest standards."
A sensible route for jewellery investment is to spend on pieces by recognised masters such as Lalique, Fouquet, Grima: singular names whose work is heralded as being definitive of an era or a style, and who have a large collector base across the world and have proved their popularity over time. The 'Beyond Boundaries - Avant-Garde Masterworks From A European Collection' auction in November 2017 presented 110 jewellery pieces in the style of Art Nouveau and Art Déco, and drew a great deal of attention worldwide for featuring multitudes of designs by René Lalique and Georges Fouquet, among others.
Conversely, while Andrew Grima is no longer with us, his designs remain covetable, and form a seminal chapter in 20th century jewellery design. His wife Jojo and daughter Francesca faithfully continue to produce Grima jewellery today on his behalf, and showcase their exceptional designs in private events and exclusive showcases - much like Hemmerle.
These names are only a few examples of those which are investment worthy in the world of jewellery, but the characteristics and approach to design which they share are what makes them truly covetable for any jewellery collector